I think I'm cheating with a mosaic; I think I'm cheating by chatting, too. ☺
One finds bittersweet by looking for a drift of rust in the trees and on fences. Being near water or in a swampy area doesn't hurt. See how the bittersweet will strangle the tree on the bottom right above? It may already have. Sometimes the host tree looks alive because of the foliage of the bittersweet. Now that I'm getting used to looking for bittersweet, I'm seeing it everywhere. Before I would have just passed it by thinking that it was tired foliage.
Linking to

*

Kati's Photo Friday.

*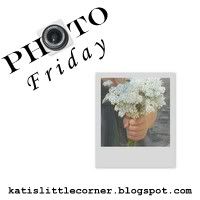 Is it as Novembery there as it is here?
☺
P.S. You can read more about this plant *here* and *here.* Seems that I have the invasive Asian or Oriental bittersweet because the berry grows along the vine and there are some thorns. Well, I won't be planting that at my place. Things are further complicated by the plants co-mingling and having characteristics of both parent plants. Hmmm...